Photobooths for any Occasion
No matter what kind of event or party you're hosting, you need to have entertainment for your guests. Photobooths are extremely popular at Weddings, Christmas Parties, Birthdays, Calgary Stampede Events, and Corporate Functions. Formal or silly, always fun!
We can provide booths to create formal portraits of each of your guests as they arrive at the event, crazy pictures of the attendees with silly props (like feather boas, sunglasses, and fake moustaches), or anything in between. Digital files for later use, on-site printing of 4x6 or 5x7 prints, animated slideshows, and custom photobooks are all available options.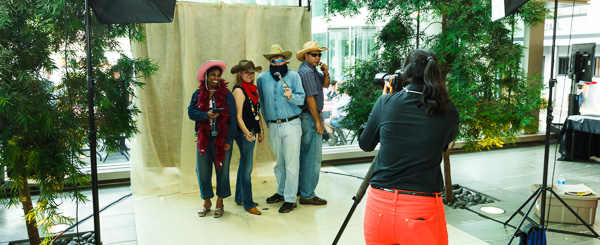 Behind the Scenes at a Custom Photobooth for a Calgary Stampede Event
 We are available to cover almost any types of event or party. Photo Booths are popular at Weddings, Engagement Parties, Birthday Parties, Bar Mitzvah's, Bat Mitzvah's, Corporate Events, High School Grads, Christmas Parties, Calgary Stampede Parties, and Team-Building Events, Conferences, Marketing Meetings, and more. We can also provide complete team photography packages for your corporate or charity golf tournament, including same-day delivery of team prints for each foursome.
Our Services

Christmas Parties
Pictures with Santa or Corporate Christmas Parties. Make your holiday party a time to remember!

Stampede Events
Wanted posters and pictures with guns are always popular during the Calgary Stampede.

Golf Tournaments
Team portraits for each foursome at your corporate or charity golf tournament.

Weddings
Silly pictures of your guests as they party the night away. On-site printing is always popular.

Corporate Functions
Formal keepsake portraits of each guest as they arrive at your event.

Birthdays
Wigs and sunglasses, feather boas and silly masks. Great memories of the special day.