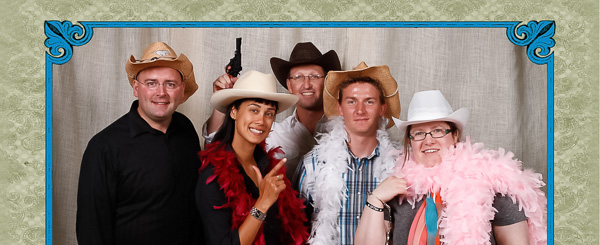 The Calgary Custom Photobooth team at a Calgary Stampede Event
A Little Bit About Us
Calgary Custom Photobooths is an offshoot of Riverwood Photography that is dedicated to providing photobooths for their weddings, events, and parties. Through Riverwood Photography we can provide you with a complete range of photography services, but this site is specifically focused on photobooths for Weddings, Christmas Parties, Calgary Stampede Events, and Corporate Functions. If you're having an event or party and you need some entertainment for your guests then you should definitely consider including a custom photobooth.
What is a Custom Photobooth?
This is not the phone-booth sized box (that you might find in a mall or movie studio) where you pop in, make funny faces at the automated peephole camera, and then wait for a few minutes until a short strip of pictures pops out.
Custom photobooths include a portable portrait studio complete with professional quality cameras and studio lighting, and they are operated by a professional photographer with a team of experienced photography assistants (as required).
Because this is a custom service we can tailor the product to what you want or need. We can do formal portraits of each of your guests or we can get crazy and bring out a big old box of props and costumes and make a party out of it. We can provide images on a DVD after the event, create a slideshow for display during the event, or we can even provide a printed product for your guests to take home with them. If you know what you want then we can provide it. If you don't know what you need then we can make some suggestions…
About Sean Phillips
Sean Phillips is a Professional Portrait Photographer located in Calgary, Alberta, Canada. Sean is the owner and principal photographer at Riverwood Photography.
Riverwood Photography is a Custom Portrait and Commercial Photography studio in Riverbend in SE Calgary. Although we specialize in Family and Children's Portraiture, and Headshots (Business Portraits) for small business, we are available to take on almost any photography assignment. We regularly work on-location or in-studio and we can travel as required to make the images you need.
Services Offered
Some of the services offered by Riverwood Photography are listed below. Please click on the links to see sample galleries. If you need anything that doesn't quite fit the offering here, please contact us and we can work with you to create a package that meets your needs.